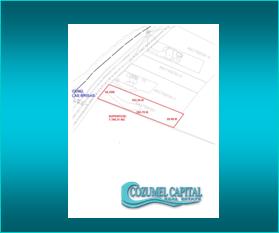 Description
Price: $ 1.1 millones Usd 
For Sale
Excellent location in the North Hotel Zone, Located in KM 4+115 North Coast Highway, in front of the public beach known locally as "LAS ROCAS", 5 minutes from the puerto de abrigo and 10 minutes from Cozumel downtown.
Lot Size:
7,190.31 M2
North 183.34 m   with Fracción I-B
South 185.78 m  with Base Aerea Militar
East    39.49 m   with Rancho Chichihualco
West: 42.32 m    with North Coast Highway
. . . UNDER CONTRACT . . .
Location:
CARRETERA COSTERA NORTE KM 4+115 ZONA HOTELERA NORTE